PIÑON CANYON MANEUVER SITE
(02 Nov 2022) Replacement Equipment (Kiosks) for Checking In and Out of Downrange
Fort Carson will not be replacing the manual kiosks and instead is transitioning to iSportsman being used via personal cell phones. In the interim the kiosk at PCMS will continue to operate for the remainder of the hunting season.
NOTIFICATIONS
Training Area checkin now required. You must check in and out of Training Areas. When you check into a PCMS Training Area - that is the ONLY Area you are authorized to be in. You must check out of a Training Area before going to a new Training Area. Going into an Area you are not checked into will result in penalties and/or fines.
PCMS Campground now OPEN!!!
Checkin & Checkout now available via phone. Kiosk checkout no longer required.
New Recreation Map of PCMS is Now Available. Training Area Boundaries Have Changed and New Training Areas Have Been Added. Click here to download.
4 Point Antler Restriction: Unlike Fort Carson, this is not an enforcible rule at PCMS (GMU 142). However, we kindly ask that you refrain from harvesting bulls that don't meet the requirement as described on page 36 of the 2022 CO Big Game Guide.
AREAS OPEN for RECREATION (Subject to Change)
PCMS Campground is OPEN!!! A camping permit will be required for Hill Ranch and is available via iSportsman.
Per PCMS Range Control the following dates are open for hunting at PCMS Fall 2022. Please continue to check for additional updates as these dates are always subject to change.
Nov 28* - Dec 2* *See Training Area CLOSURES below for dates with a red asterick (CLOSED Thanksgiving Day - Nov 24)
Dec 3-31 *See Training Area CLOSURES below
DEC 16, 17 & 18 Everything OPEN, NO CLOSURES
DEC 24 Everything OPEN Until Noon, NO CLOSURES
DEC 26 Everything OPEN, NO CLOSURES
Dec 27 - 29 *See Training Area CLOSURES below for dates with a red asterick
Dec 30 Everything OPEN, NO CLOSURES
Dec 31 Everything OPEN until Noon, NO CLOSURES
Jan 1 (New Years Day) Everything OPEN, NO CLOSURES
Use detour route through Lockwood Canyon as shown on PCMS recreation map (MSR 2 to MSR3A to MSR 4 to MSR 1B) when MSR 1 is CLOSED due to live fire activity on Range 9, Squad Live Fire, etc. and training on DZ Pinon North.
If PCMS is CLOSED to recreation, that means that access to GMU 147 is not available via GMU 142 (PCMS).
All other areas listed below under "PCMS CLOSURES" are closed to recreation
PCMS CLOSURES (Subject to Change)
Any date not listed above as open means PCMS is CLOSED
Nov 30 - Dec 2 Small Arms Range CLOSED, TA 7A CLOSED for Range Seeding. MSR 1 through Range 9 OPEN
Dec 3- 9 Small Arms Range CLOSED, MOUT Sites 11A, 11B & 11C (Maintain 1 mile hunting buffer around these areas)
Dec 5-11 Range 9 CLOSED for Rx Burn MSR 1 through Range 9 OPEN
Dec 6-8 TA 2, TA7A, TA 10A, TA11, TAE (Lockwood Canyon)
Dec 8 DZ Pronghorn CLOSED for Air Ops
Dec 12-15 TA 7A CLOSED for Range Seeding. MSR 1 through Range 9 OPEN
Dec 19-22 TA 7A CLOSED for Range Seeding. MSR 1 through Range 9 OPEN
Dec 24 - CLOSE at NOON
Dec 25 (Christmas Day) - PCMS CLOSED
Dec 27-29 TA 7A CLOSED for Range Seeding. MSR 1 through Range 9 OPEN
DEC 31 - CLOSE at NOON
If you have any questions, comments, or concerns: Click here
This page last updated 11/30/2022
Attention Hunters-Don't Forget to:
Sign the top of your license prior to hunting, and validate your carcass tag as soon as you harvest an animal
Make sure you have your HIP number available if hunting small game
Make sure you have evidence of sex naturally attached
Keep your weapon cased and unloaded while transporting while on PCMS
Leave a paper copy of your B&C Scoresheet in the black box if you harvest something with antlers or horns.
CHECK OUT WHEN YOU ARE DONE HUNTING FOR THE DAY!!!
GENERAL INFORMATION
Due to the increase in military training exercises at PCMS, more demands are being placed on a limited biological resources staff to support the training tempo. As a result, we are generally closed to all forms of recreation Mid May - August and reopen in September (please continue to check back as additional closures may occur due to the military training schedule).
Please remember: Hunts during the month of September for Over-the-Counter (OTC) pronghorn archery, OTC elk archery and elk muzzleloader (draw) are all multi-unit hunts which are valid for many other units besides Unit 142 (PCMS).
Specific range and training area closures will be printed your down range pass only if you use the kiosk for check-in. Training area closures
and/or road closures (due to inclement weather) will be posted at the top this web page.
A recreation permit is required for all activities (hunting, horseback riding, hiking, photography, scouting, birding, etc.) on the PCMS. The
permit is valid for both PCMS and Fort Carson and may be purchased from this website after you set up a profile and watch the safety briefing.
LOCATION AND DIRECTIONS
The PCMS entry gate is located at Mile Marker 24, about 35 miles northeast of Trinidad, CO and 50 miles southeast of La Junta, CO on US Highway 350. PCMS is 35 miles from the nearest grocery store or gas station, so plan accordingly.
Trinidad to PCMS map click HERE
La Junta to PCMS map click HERE
PCMS HOURS OF RECREATION, CHECK-IN PROCEDURES AND GATE ACCESS INFORMATION
Check-out times listed below are variable and based on amount of daylight during the year.
Late checkouts will result in an automatic administrative hold on the account. Do not check out late!!!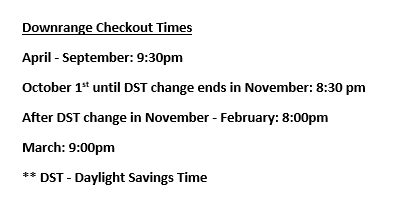 Open weekdays and weekends starting Sept 1 - through Jan 31st (with the exception of Thanksgiving Day and Christmas) as training allows. Gate Check in time is 4:00 AM.
You may use your smart phone, tablet or PC to check-in. If you are unable to check-out at the kiosk for any reason, you must call Fort Carson/PCMS Wildlife to check-out over the phone at 719-338-9536 or 719-725-4682. Additionally, you must clearly write your permit number and the date on a piece of paper and display it on your dashboard if the kiosk does not print it out. The gate access code is provided during the iSportsman check-in process.
PCMS RECREATION SAFETY BRIEFINGS
Recreation Safety Briefings are now available online. You must complete and pass a short test at the end of the safety briefing before your can purchase your recreation pass. If you have specific questions that are not answered in the briefing you may stop by our office in Bldg 300 (Rm C-50) or call 719-338-9536 to talk to one of our wildlife biologists. Call 719-503-6124 if you are military or a contractor and are trying to schedule a training range or a site visit.
FORT CARSON HUNTING AND FISHING REGULATIONS (FC 200-6)
The current FC/PCMS Regulation 200-6, "Wildlife Management and Recreation" can be viewed by clicking HERE.
COLORADO PARKS & WILDLIFE (CPW) HUNTING AND FISHING REGULATIONS
To learn more about Colorado hunting and fishing regulations from Colorado Parks & Wildlife click HERE or download the brochures:
Big Game
Sheep & Goat
Turkey
Small Game (Note: These PDFs may take awhile to open.)
Hard copys of the above publications are also available in the PCMS hunter check station.
FREQUENTLY ASKED QUESTIONS
Frequently Asked Questions About Hunting at PCMS
In order to hunt on PCMS you will need to do the following:

Take the online recreation safety brief.
Purchase an annual recreational permit online (to view the permit fees click HERE)
Register your firearms (to find out how to register your firearms and download firearms registration form click HERE)

Check the PCMS web page on the iSportsman website prior to coming to PCMS for any closures (military training or weather related)

Check in at the kiosk or online to print a down range pass prior to heading downrange, and
then check out on time at the kiosk when you leave. If the kiosk is down you must call Fort Carson range control to check out at

(719) 526-5698

.
Click here for more FAQ.
PCMS PHOTOS
We love to see your photos. Please submit any that you would like to share.
Check out the photos that have already been submitted and tips for taking great harvest photos (see links below).
BOONE & CROCKETT SCORE SHEETS
The Boone and Crockett Club was founded by Theodore Roosevelt, along with other visionaries in 1887. The B & C Score sheets provide a method by which hunters can score their harvest. The sheets calculate both the gross size (overall antler/horn size with out any deductions) and the final size (which includes the deductions that occur with any loss of symmetry between the antlers/horns). The information on the B & C sheets is analyzed and utilized by the wildlife biologists at PCMS and the Colorado Parks and Wildlife each year prior to developing the hunting management plans for the area. PCMS requires that a B & C Score Sheet is submitted for any animal harvested with horns or antlers, including Plains Deer and Plains Elk harvested in GMU 147. Below is an example of a correctly completed B & C Sheet.
HUNTING DATA
The PCMS biologists would like to extend a big "thank you" to all the hunters who have provided their B&C scores sheets. Summaries of the data collected the last 5 hunting seasons at Pinon Canyon Maneuver Site (PCMS) are available below. Click the links to download a more detailed report.
2017 PCMS Hunting Report
2018 PCMS Hunting Report
2019 PCMS Hunting Report 2020 PCMS Hunting Report 2021 PCMS Hunting Report
HAVE YOU SEEN AN AUDAD?
We haven't seen one in a few years, but if you do you can take it with a valid CO hunting license. Be sure you know the difference between an audad and a bighorn sheep. audad flier
ATTENTION BOBCAT HUNTERS
The Colorado Parks and Wildlife (CPW) has released Canada lynx in southwest Colorado and this threatened species can now potentially be found throughout the state. Please report any sightings to the CPW office and be very sure of your target while bobcat hunting.
CPW small game brochure link.