Welcome to Fort Carson & Piñon Canyon Maneuver Site

iSportsman - Your Sikes Act Permit Sales & Recreation Management Service
Fire Danger Rating: Fort Carson - Very High; Piñon Canyon Maneuver Site - High (updated 10/20/2020)
RECENT NEWS & INFORMATION
​

​

​​

​​

​

​

​

​
​
***NOTICE -
IMPORTANT INFORMATION
***
(
Updated 22 October 2020)
For those who asked about registering muzzleloader weapons: YES, muzzleloaders must be registered with the Provost Marshal's office.

Per Fort Carson Regulation 190-4, page 4, part d. " Air rifles, air pistols, slings, slingshots, spear guns, cross bows, long bows, compound bows, blowguns, paint ball guns, air-soft guns, or other similar projectile launching devices do not require registration." All other weapons/firearms require weapon registration. Go to "Access" tab and choose Firearm registration/information from the drop-down for more information and to download the form.

IMPORTANT INFORMATION ABOUT ACCESS AND UPCOMING FALL BIG GAME SEASON:

NEW INFORMATION on 22 Oct 2020 -

there has been current increases in number of COVID cases on Fort Carson, PCMS and the surrounding areas. Although there is currently no change to the HPCON designation on Fort Carson & PCMS, this could change to a higher, stricter condition if the current trend continues.

​

An exception has been given concerning opening for hunting and access on

Fort Carson and Pinon Canyon Maneuver Site (PCMS) during the Health Protection Conditions (HPCON) related to the COVID-19 crisis. Fort Carson and PCMS is open for the fall 2020-2021 hunting season. Access to Fort Carson and PCMS has been given to non-DoD civilian hunters (defined as hunters who do not have a DoD ID card or VA card) while the installations are in HPCON-B (including HPCON B+). Be aware, this only allows access to non-DoD civilian hunters when Fort Carson and/or PCMS is open for hunting. This does not apply to non-DoD civilians who want to fish or do other recreation. Non-DoD civilian hunters must be on Fort Carson and PCMS for hunting downrange only.

The Fort Carson homepage has the current HPCON status posted at https://www.carson.army.mil/ or it can be accessed at https://www.facebook.com/USArmyFortCarson. At any time HPCON staffing challenges may require a reduction in open areas or hunting to be closed. This exception applies only to HUNTERS, it does not apply to anglers. Civilians who wish to fish on Fort Carson are not allowed thru this HPCON exception.
During the Fall Hunting Season (Aug 2020–31 March 2021) the following applies when in:

​HPCON A

- Access is not restricted on Fort Carson or PCMS. Non-DoD civilians are allowed access to Fort Carson and PCMS,

HPCON B - Access is not restricted on Fort Carson or PCMS to non-DoD civilian HUNTERS (formerly restricted access),
HPCON C - Access is restricted. Non-DoD civilians will not be allowed on Fort Carson and PCMS. Hunting will only be allowed north of Route 8 on Fort Carson and not allowed on PCMS, or
HPCON D - Access is restricted. Non-DoD civilians will not be allowed access and there will be no hunting or recreation on Fort Carson or PCMS.
Note: DoD ID card holders, retired veterans, and VA disabled veterans have access to Fort Carson and PCMS when in HPCON A-C.

All persons seeking access to Fort Carson and/or PCMS who have been in COVID-19 "hotspots" may be denied access. The Fort Carson homepage contains definitions & information about "hotspots" and current "hotspots" areas.

Your safety and the safety of others is of utmost importance. Thank you for your understanding and patience during this COVID crisis.

IMPORTANT for Fort Carson only hunters: Civilians must have ALL credentials with you when going to the VCC. At a minimum, this includes: your Colorado Parks & Wildlife (CPW) hunt tag, valid Fort Carson Recreation permit, and a valid identification.

The Following information has been provided by CPW:

"For any new COVID-related refund request(s), we will allow customers to receive both a monetary refund and preference point restoration (to the pre-drawing level) for any request that we receive postmarked at least 15 days before the start of the respective season. Current regulations require customers to choose between either a refund or their points back under most circumstances, and requires postmarked submission of the refund request, at a minimum, 30 days prior to the start of any big game season (14 days for turkey) to be eligible.

No additional points for this year will be added at this time. The $15 processing fee will also still apply and will be deducted from the refund amount. Qualifying licenses and application fees continue to be non-refundable."​

Attention Anglers: Womack Reservoir dock is OPEN NOW.

The dock has been repaired and is safe to use now.

All COVID-19 safety measures must be followed, which includes staying at least 6 feet away from other people (except those you live with in your home) and wear a mask when near other people.

The kiosk at Gate 1 is out of order at this time.

The Bird Farm Recreation Area is open for NON-CONSUMPTIVE recreation ONLY. This includes dog training with or without caps/blanks, hiking, etc. To recreate in the Bird Farm you must get a down range pass and the Bird Farm has a maximum occupancy of five people.

You are required to stay at least 50 feet from any active bird nests, including the artificial bird nest boxes in the Bird Farm.

All customers who bought an annual recreation permit between April 1-20, 2020, your current permits and safety briefs say "2019-20" in the name/title, but the valid dates are still correct (valid until March 31, 2021). These permits and safety briefs are still valid for the year. There was a problem with the permits and this mislabeled the permits and safety brief and they cannot be changed. Conservation Law Enforcement Officers are aware of the situation.

Starting April 1, 2020, fishing at Haymes reservoir will follow Colorado Parks & Wildlife's bag limits and Fort Carson 200-6 regulation. Unlimited take of fish from Haymes is no longer allowed.

Fort Carson (GMU 591) is now included in the bull elk four point Antler-Point Restrictions. See page 35-36 in the Colorado Parks & Wildlife's 2020 Colorado Big Game brochure for more information.

THE FORT CARSON WOOD COLLECTION PROGRAM IS OPERATING ON AN APPOINTMENT BASIS FOR THE WOOD YARD ONLY DUE TO COVID-19. NO DOWNRANGE COLLECTION IS ALLOWED AT THIS TIME. AFTER PAYING FOR YOUR WOOD YARD PERMIT CALL THE FORESTER AT 863.532.2885 TO MAKE AN APPOINTMENT

TO GET YOUR FIREWOOD.
---
Annual Hunting/Fishing permits are valid from 1 Apr 2020 to 31 Mar 2021
To be able to see and purchase a 2020-21 Annual Hunting/Fishing Permit(s), you must:
​1. Complete (or have completed) "Account Registration".
​2. Complete (or have completed) "Annual Range Safety Brief".
​* Only the wood yard permit will be visible until you complete the Annual Range Safety Brief.
​For more information click on Program Info (Drop Down Menu).
​***

All recreationists,

including fishermen, must complete the annual range safety brief

before any permits will show or be available. Click

HERE

for more information.
***NOTICE: When Checking-in at the Kiosk: If kiosk does not print your downrange pass, you need to check-in on iSportsman and then write your pass information on paper.

For your convenience, paper is provided at the kiosk to write your information on and put on the dash of your vehicle

.

FC 200-6 Regulation 3-8, e. & f. states:
e. Customers obtaining a pass online must print a copy of the pass. If unable to print a downrange pass when checking-in (e.g., using a mobile device), the customer must provide a legible hand-written paper pass.
f. Hand-written paper passes must include the customer's name, permit number, the date, and training area or block the customer is checked into. A hand-written downrange pass can only be used after the customer has successfully completed the check in procedure on the iSportsman website and does not have access to a printer.
​
***Fort Carson's 200-6 Regulation, Wildlife Management and Recreation, has been revised (dated 17 May 2018). It is HIGHLY advised that everyone recreating on FC read this regulation in its entirety. Also a Supplemental Information Document was created to hopefully assist with understanding rules and steps to recreate on FC. Also, posted on this document are newly Reduced Recreation Permit prices for some customers and information concerning printing permits/passes, youth and non-participants.
---
​

T

here are new procedures to recreate and collect firewood on FC and Piñon Canyon Maneuver Site (PCMS)
ALL CUSTOMERS

​If it is your first time on iSportsman (for recreation and/or firewood collection) OR if it is your first time on FC iSportsman since August 28, 2017: Customers must first Register and create an account. Go to "Register" from the "Account Register & Log In Site" drop down.
Enter information and remember your login ID (user name) and password to log in to the site after registration is complete.

However,

if you have

previously registered on iSportsman at another installation or facility across the U.S.

- You do not need to register on the Fort Carson iSportsman. Instead, select "Login" and use the username and password that you created at the other installation's iSportsman. Select YES, when asked if you want to join the Fort Carson iSportsman Portal.

Hence forth, after registering, you will log into your account by selecting "Login".

All actions on iSportsman (i.e., watching the range safety brief, buying & printing permits, getting a down range pass, updating personal information) can only be done while logged into your personal account. ​
FIREWOOD CUSTOMERS

​There is a new procedure to acquire a firewood collection permit and downrange pass for Downrange Wood Collection. All wood collection permits (i.e., wood yard or downrange wood collection) and the wood splitter rental are bought here on Fort Carson's iSportsman website. Permits cannot be purchased in-person anymore. Go to "Firewood Collection Program" above for all the details and instructions on how to buy your firewood permits.
---
​​​***If you have questions, concerns, comments, or suggestions for services provided by Fort Carson and/or the Fort Carson Recreation Program, you are welcome to submit an Interactive Customer Evaluation (ICE) form by going here: Welcome to the Fort Carson ICE Site
---
*** For information on PCMS ***

(e.g.. closures, safety briefs, & other information specific to PCMS) visit the

PCMS Info page

above.
---
***Important Information about***
Free Wounded Warrior Hunt License - information is found on the Hunting page or Click

HERE

​

Access to Fort Carson Installation - Click

HERE
---
***What does Fort Carson do with your permit fees? (click image to enlarge)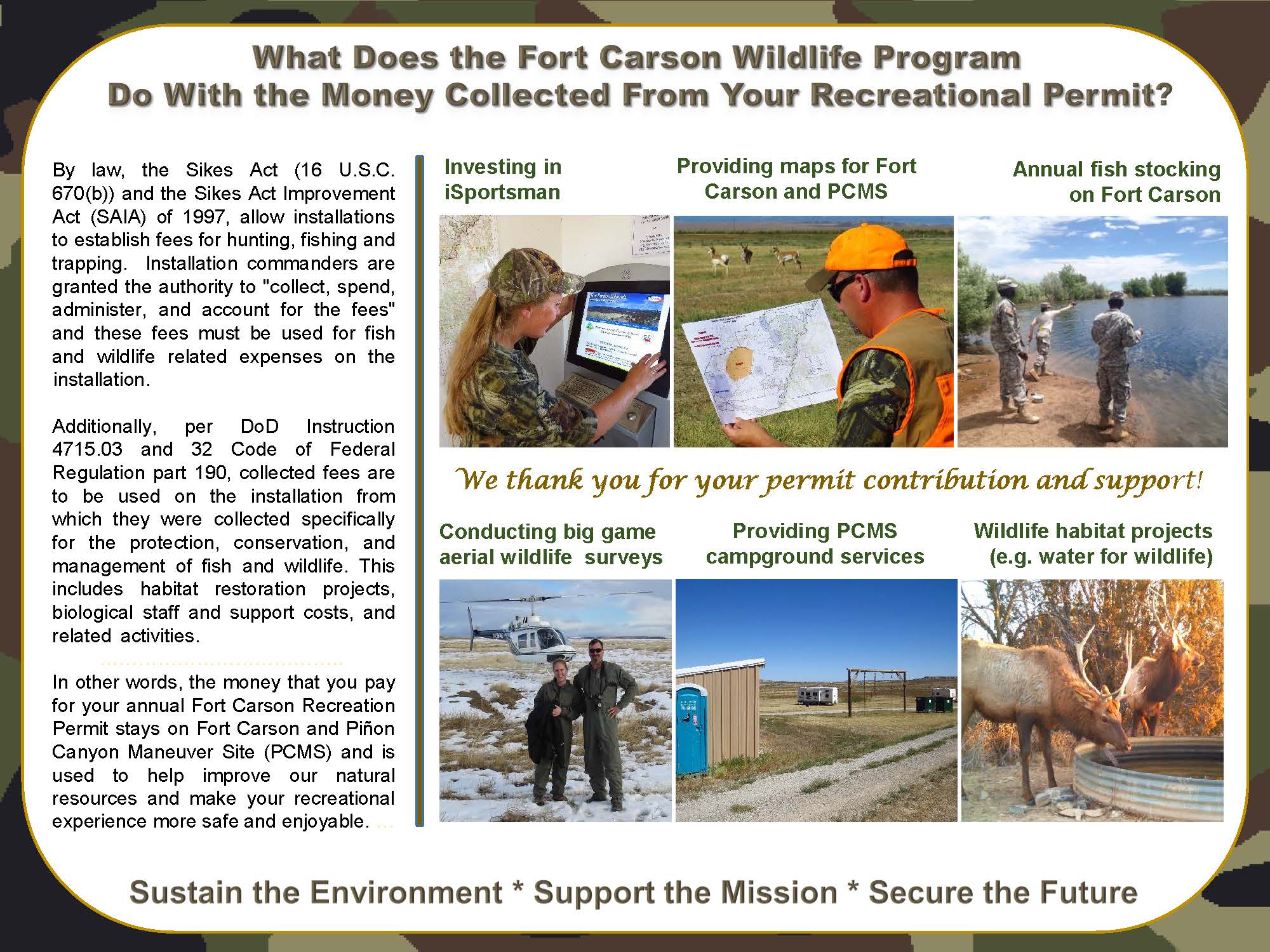 ---
IMPORTANT NOTICES
Camp Falcon is NOT open for hunting

Attention hunters - Fort Carson is not a Trophy Buck management area. Our deer population has been drastically reduced via over harvest to research several methods to control chronic wasting disease (CWD).

All persons getting a downrange pass should be familiar with map reading and land navigation prior to accessing downrange areas.

DO NOT ENTER training areas that are not part of the Block on your Downrange Pass.
---
OTHER INFORMATION
Directions To PCMS
The PCMS gate is located at mile marker 24, about 35 miles northeast of Trinidad and 50 miles southeast of La Junta on US Highway 350. The installation is 35 miles from the nearest store or gas, so plan accordingly. For more information on hunting at PCMS please visit the PCMS page.