Welcome to Fort Carson & Piñon Canyon Maneuver Site

iSportsman - Your Web-based Automated Recreation Service
RECENT NEWS & INFORMATION
**NOTICE** iSportsman is BACK UP! Recreation Permit sales is functional now. Everyone needs to use the actual web address of: https://fortcarson.isportsman.net. If you need a recreation permit for the year, go to "Buy Permit" above and purchase your permit that is valid until March 31, 2017. The Fort Carson kiosk is back up and working. Go to "Check in" above to get Down Range Passes on iSportsman and you must go to the Fort Carson kiosk, if downrange on Fort Carson, to check out. Thank you all for your patience during the last 2 weeks!
For information about Piñon Canyon Maneuver Site (PCMS) kiosk, schedule, safety briefs and other information specific to PCMS, click here.
**EFFECTIVE IMMEDIATELY** Instructions for YOUTH RECREATIONIST GOING DOWNRANGE: There are changes for those desiring to bring youth, 11 years of age or younger, downrange with them, as follows:
Mentor/Parent/Guardian may bring children, 11 years of age and younger, with them when going down range and must be 18 years of age or older.
Children, 11 years old and younger are NOT REQUIRED to attend the annual Down Range Safety Brief. But, the mentor/parent/guardian must attend the brief and are responsible for those children in their care while downrange, at all times.
Children, 11 years old and younger DO NOT need to get Down Range Passes.
Mentor/Parent/Guardian getting a Down Range Pass must accept the Acknowledgement Instructions when bringing children onto FC and/or PCMS.
Signing (checking box) the Hold Harmless Agreement when obtaining a Down Range Pass, also applies to all children you bring and are responsible for when down range.
Children, 11 years old and younger, must stay with mentor/parent/guardian at all times, when down range.
Mentor/Parent/Guardian must follow instructions given when obtaining Down Range Pass (i.e., write names of youth in your care on Down Range Pass).
Children 12 to 17 years of age going down range must follow all procedures for adults/mentors that go with them:
Children 12-17 years old must have mentor/parent/guardian with them when going downrange.
Mentor/Parent/Guardian must be 18 years of age or older.
Children 12-17 years old must complete all requirements to go downrange, to include

Purchase Annual Recreation Permit
If hunting, register weapon
Attend Annual Range Safety Brief
Get Down Range Pass when going downrange with Mentor/Parent/Guardian
---
---
**ATTENTION** Fort Carson Only

-- Changes to Visitor Access Policy onto Fort Carson
Fort Carson has New Visitor Access Policy
Fort Carson (FC) changed its access control policies and procedures. The purpose for these changes are to increase the installation's security posture and conform to regulatory guidance. The changes will impact all non-Department of Defense (DoD) ID card holders requesting unescorted access to the installation. The following changes will take place:
ADDITIONALLY, Fort Carson now uses the Automated Installation Entry (AIE) 2+ system at Fort Carson access control points. All personnel must be registered in the system and have a Department of Defense (DoD) identification card (ID) or automated installation entry (AIE2+) installation access card.
Personnel who have been issued a

DoD ID card

, may register at:

The Gate 1 Visitor Control Center(VCC), building 6012, from 5 a.m. to 9 p.m. seven (7) days a week
Retirees and Family members who have DoD ID cards that contain their Social Security number (SSN)

Go to the VCC, because you are required to obtain a new ID card that uses a DoD ID number in place of the SSN.
Special considerations for retirees and family members is being considered by going through any gate that is operating the AIE system utilizing the in-lane registration process.

Non-DoD ID Card Holders:

All non-DoD ID card holders requesting unescorted access will be required to undergo a NCIC III (criminal history background) check prior to accessing the installation

Personnel who do not pass the NCIC III check will be denied access to the installation.

If not already completed, non-DoD ID card holders must register at the Gate 1 VCC.

Must have with you a valid state or federally issued photo ID (driver's license if driving), vehicle registration, and proof of insurance (if applicable).
All personnel must have a valid reason for accessing the installation.
Upon completion of registration, Non-DoD ID card holders will be issued an AIE2+ installation access card, which is tied to the individual and contains a photo of the invidual and a bar code,
The AIE2+ access card will be scanned by the AIE system Upon entering Fort Carson.

For Re-occuring Access

Purchase Recreation Permit from this web site and Print out the permit. Go to Buy Permits tab above or click HERE.
Take your printed Recreation Permit to the VCC. They will conduct an NCIC III background check and if approved will issue you an AIE2+ installation access card good for 120-DAYS.

Show the 120-day pass to security guard when passing through the manned gates to recreate on Fort Carson.

When your current 120-day pass expires you will have to go to the VCC and get a new 120-day pass issued.

All personnel

Background checks and card services are done at the Gate 1 Visitor Control Center(VCC), building 6012, from 5 a.m. to 9 p.m. seven (7) days a week

Enrollment in the AIE program will not exempt an individual from being selected for random inspection in accordance with the installation's Random Antiterrorism Measures Program (RAMP).

The AIE system also allows DoD personnel who are registered to act as "Trusted Travelers", but does not allow a non-DoD ID card holder with an AIE2+ access pass to serve in a trusted traveler status. This means that if the driver of the vehicle, who possesses a DoD ID card, has enrolled in the system, and they are using a lane where the AIE system is active, then they can swipe their ID without requiring all their passengers to show their IDs. Furthermore, if the driver does not have a DoD ID card, but does have an AIE2+ access card, then the driver plus All passengers in the car will show their ID's (DoD ID or AIE2+ cards) to the gate guard.

NOTE: This new policy does not apply to Piñon Canyon Maneuver Site (PCMS) visitors.
Questions may be directed to:
VCC at (719) 526-2332
Security & Access Control Office at (719) 526-5543.
Any other problems with the process, you may call (719) 526-8006.
---
**NOTICE**

NEW RECREATION PERMIT FEE SCHEDULE (TYPE and RATES) IS IN EFFECT. Go to "Access" then "Permit Information" or "Buy Permit" above for more information or to buy your permit.

Please realize your permit will be valid to March 31, 2017 and cannot be 'upgraded'/or changed to include other recreation, so choose the permit that allows ALL the recreational opportunities you wish to participate in for the year. Refunds will not be granted in order to change permits.
**What does Fort Carson do with your permit fees? (click image to enlarge)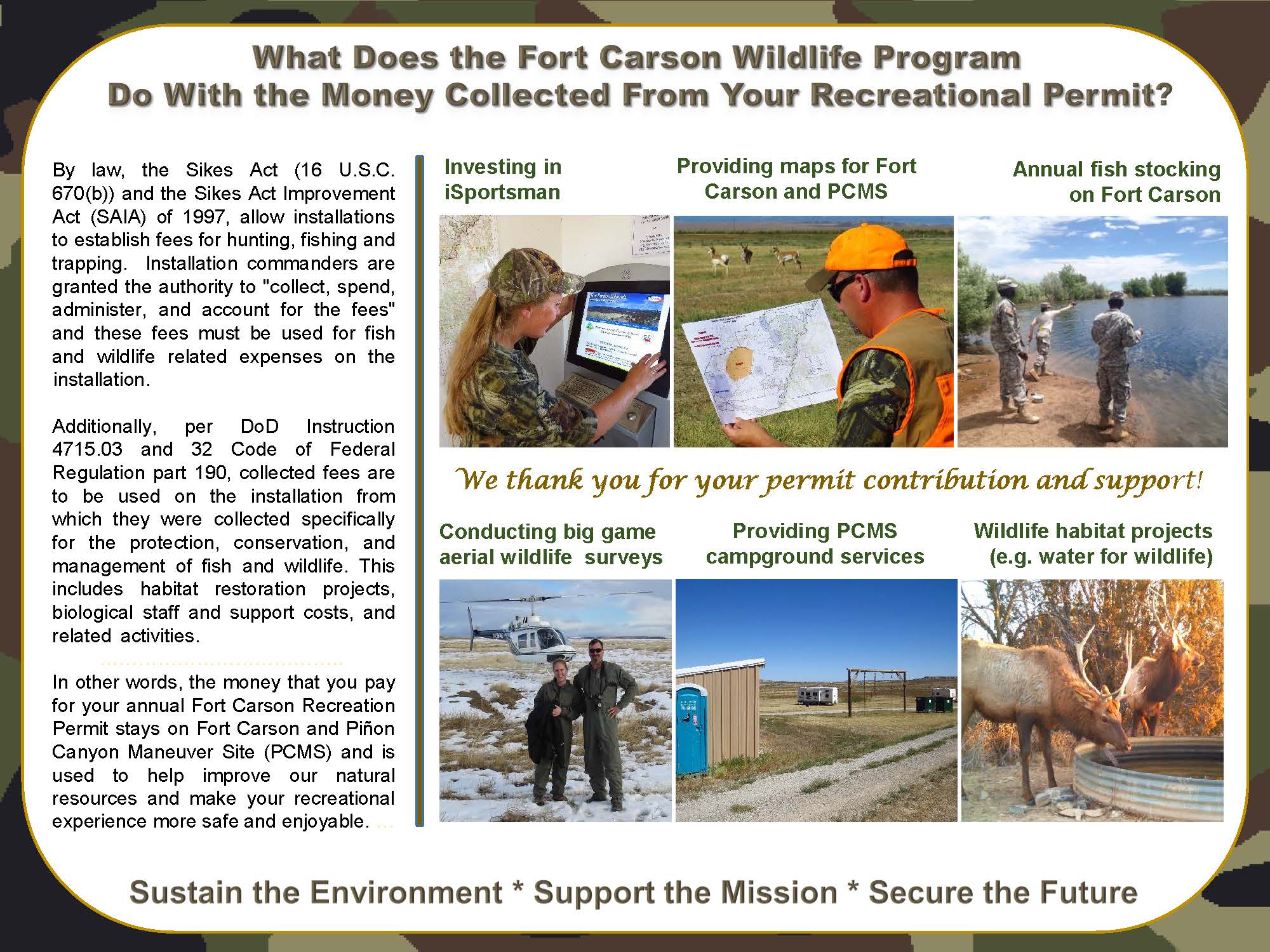 ---
**ATTENTION: Please read the bullets below before proceeding with iSportsman. There is important information to read about the upgraded iSportsman before you proceed. Thank you.
Ensure that the number you provide on your permit is a cell phone that is with you and can be used while on Fort Carson or Piñon Canyon Maneuver Site (PCMS).

When asked for a PIN, you enter any 4 digit numbers you want.

It takes about 2 business days to clear your Recreation Permit with Security at the Visitor Control Center (VCC; bldg. 2012) before you can get an 120-day visitor access pass to enter Fort Carson. This does not apply to Piñon Canyon Maneuver Site (PCMS). Do not wait to buy your Recreation Permit on the same day you are wanting your 120-day access pass to Fort Carson (see New Visitor Access Policy below). You can still get a 1-day access pass.

Recreation Permits can ONLY be purchased Online now.

You may purchase your Recreation Permit by going to Buy Permit tab above and follow the instructions. Recreation Permits can be purchased with a credit or debit card. Please ensure you print your Recreation Permit and have it with you when recreating on the installations.

Recreation Permits are NO longer sold at MWR Outdoor Recreation or from personnel at

PCMS

. If you need assistance with purchasing your permit or have questions, please call 719-526-8006 or 719-524-5393.

Your new Recreation Permits purchased from this site will not have your name on it. Only your Permit number and PIN will be on the Recreation Permits. This is subject to change in the future.

See information below on Visitor Access for Recreationist.
---
***NOTICE*** WOUNDED WARRIOR LICENSE AVAILABLE!
10 antlerless deer, 10 antlerless elk, and 10 antlerless pronghorn licenses are available on first come first serve basis.
Information and the Application can be found by clicking

HERE

. The hunt code will be D-F-591-L1-R for deer, E-F-591-L1-R for elk, and A-F-059-O1R for pronghorn.
Requirements:
Must be active duty.

Must be a Colorado resident OR stationed in Colorado.

Must have a statement from a physician.
Mail completed application to: Colorado Parks And Wildlife, Attn: Wounded Warrior Program, 6060 Broadway, Denver, CO 80216.
To see Colorado Parks and Wildlife Wounded Warrior Regulation click

HERE

.
Fort Carson requirements still need to be completed before going Down Range. For more information on Fort Carson recreation requirements go to "Access" tab at the top. For more information on guided hunts, please call Range Control at 719-526-9717. When leaving message, make sure to leave name, phone number, and reason for the call. For more information call 719-526-8006.
***

For information on PCMS (e.g. closures and safety briefs) visit the

***




PCMS page

under the Program Info tab.



---
IMPORTANT NOTICES
Camp Falcon is NOT open for hunting

Attention hunters - Fort Carson is not a Trophy Buck management area. Our deer population has been drastically reduced via over harvest to research several methods to control chronic wasting disease (CWD).

All persons getting a downrange pass should be familiar with map reading and land navigation prior to accessing downrange areas.

The current FC/PCMS Regulation 200-6, "Wildlife Management and Recreation" can be viewed by clicking

HERE

.

Game Management Unit (GMU) 591 - All Elk and Deer need to be taken to Colorado Parks & Wildlife on Sinton Road for mandatory CWD testing. Elk have recently tested positive for CWD in our area. Deer will also have one lower incisor removed for aging and a DNA sample taken for genetic research on CWD.

DO NOT ENTER training areas that are not part of the Block on your Downrange Pass.
SYSTEM OPERATION NOTES
Checking Out at the Kiosk
You must check out at the kiosk when leaving Fort Carson or PCMS. If you cannot checkout, then turn in your pass at Range Control.
Additionally, if you have problems checking in or out with iSportsman, please go to Range Control to do manual check-in/ out.
OTHER INFORMATION
Directions To PCMS
The PCMS gate is located at mile marker 24, about 35 miles northeast of Trinidad and 50 miles southeast of La Junta on US Highway 350. The installation is 35 miles from the nearest store or gas, so plan accordingly. For more information on hunting at PCMS please visit the PCMS page.