HUNTING ON FORT CARSON & PIÑON CANYON MANEUVER SITE
Just Getting Started With iSportsman? Step-By-Step Guidance On Getting An Account and/or Purchasing Your Recreation Permit(s) Click Here
Fort Carson Regulations - you are required to read the FC 200-6 & 190-4 prior to recreating
FC Regulation 200-6 Wildlife Managment and Recreation CLICK HERE
FC Regulation 190-4 Military Police Prohibited and Regulated Conduct CLICK HERE
A memorandum was issued and amended the Fort Carson Regulation 190-4 to require a General Officer Memorandum of Reprimand for violations of paragraph 2-2 through 2-4, in addition to UCMJ actions. Civilians and Retirees in violation of 190-4, paragraphs 2-2 through 2-4 will receive similar penalties and offenders may be subject to a permanent bar from entering Fort Carson and PCMS in addition to receiving a violation notice of 18USC930 (a) Possession of a firearm and dangerous weapons in Federal facilities. This regulation can also be found under the Firearms Registration Tab under Access.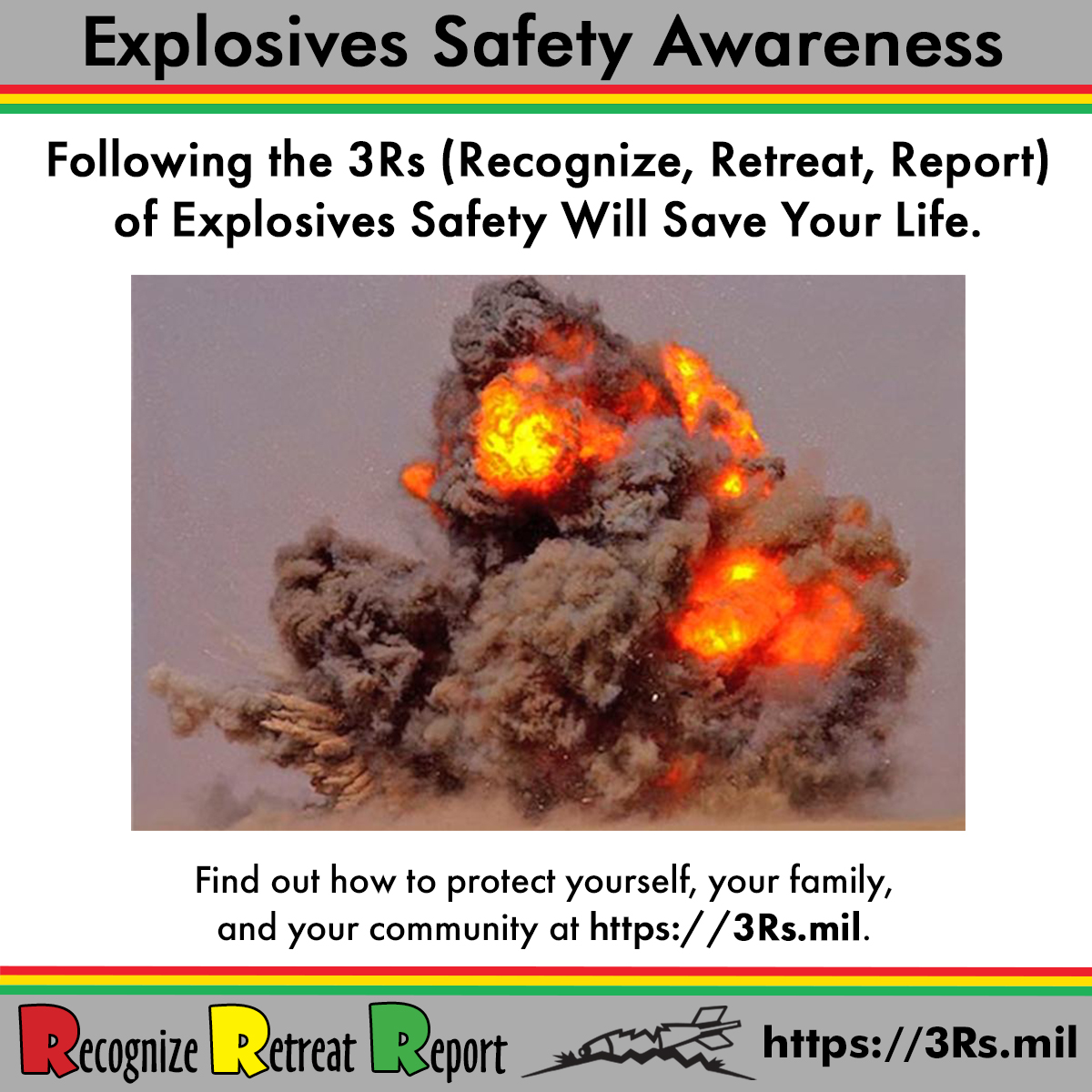 All reporting of unexploded ordnance will be through the FC Fire Desk (719) 526-5698.
https://www.denix.osd.mil/uxo/3rs-training/index.html
https://www.denix.osd.mil/uxo/
REMINDER: FOR GMU 591: Bulk elk taken in all seaons must have 4 points or more on one antler OR a brow tine of 5 inches or more. For more information https://cpw.state.co.us/Documents/Hunting/BigGame/Elk-Antler-Point-Restrictions.pdf
Hunting on Fort Carson (FC) and Piñon Canyon Maneuver Site (PCMS) is in accordance with Fort Carson Regulation 200-6 (Wildlife Management and Recreation), and Colorado State and U.S. Fish and Wildlife Service (USFWS) regulations. Fort Carson Conservation Law Enforcement Officers (CLEO) are authorized to enforce federal and state laws and Department of Defense (DoD) and Army regulations. Colorado Parks and Wildlife (CPW) and USFWS Law Enforcement Officers are authorized to enter Fort Carson and PCMS to enforce federal and state fish and wildlife laws. The information provided here is a summary or rules and regulations found in FC Regulation 200-6.
WHAT YOU NEED TO HUNT DOWNRANGE
To hunt on Fort Carson or PCMS you need to: (1) complete a one-time registration of an iSportsman account (2) complete the annual, downrange safety briefing and UXO safety briefing (s) (3) purchase an annual recreational permit, only after completion of the safety briefs, (4) register firearms (unless using bow for archery hunting), and after 1 through 4 are complete, then (5) obtain a daily downrange pass for when open areas are available. Open Areas are updated on most Thursdays or Fridays each week.
WOUNDED WARRIOR HUNTING OPPORTUNITIES THROUGH COLORADO PARKS & WILDLIFE
The Colorado Parks and Wildlife (CPW) provides free hunting opportunities for those in the Wounded Warrior program.
To view the CPW regulation pertaining to Wounded Warrior tags, Click

HERE

.
To view Wounded Warrior hunting Fort Carson information, Click

HERE

.
To download the Wounded Warrior Application, Click

HERE

.
​AREAS AVAILABLE OR CLOSED FOR HUNTING
The training lands of Fort Carson are divided into 56 training areas that are available for recreation when not reserved for military training, range maintenance, or other management activities. Approximately 94,000 acres are available for hunting and other recreational pursuits. On Fort Carson, a downrange pass is generally available for 1-8 training areas termed a "block." Range Control determines Block composition.
Because of proximity to Butts Army Airfield and training flight routes, waterfowl hunting is prohibited at the fishing reservoirs (i.e., Northside, Haymes, West Haymes, Townsend, or Womack reservoirs) due to increased risk of an aircraft-bird strike. Note: Waterfowl are not common on Fort Carson or PCMS. The cantonment, ranges, and impact areas are not open to hunting. Hunting is prohibited in the Outdoor Recreation Management (including Bird Farm and Turkey Creek Ranch Recreation Areas), or training areas having an active Golden Eagle eyrie.
Piñon Canyon Maneuver Site is divided into 23 training areas and approximately 224,000 acres are available for hunting. When hunting is allowed at PCMS, generally the entire installation is available, unless the ranges or training areas are in use. For information specific to hunting on PCMS, please go to PCMS site tab.
RIFLE AND LOW VELOCITY HUNTING AREAS
Fort Carson training areas 7, 8, 9, 11, 12, 13 ,14, 16, 20, 24, 25, 28, and 41 are available for low velocity hunting only year-round. Low velocity hunting is limited to archery, muzzleloader, or shotgun. The remainder of the training areas, when open, are available for hunting with any legal weapon for the species hunted, unless restricted by Range Control. Range Control makes the final determination regarding the type of firearms allowed in each training area.
At PCMS, hunting by any legal method is generally the rule and low velocity restrictions are a rare occurrence at PCMS. However, Range Control makes the final determination regarding the type of firearms allowed in each training area at PCMS.
ARCHERY ONLY HUNTING AREAS
Fort Carson training areas 2, 3, 4, 5, and 6 are available for archery only. Crossbows can be used during rifle seasons. The Bird Farm is archery only during availble date in December only, otherwise it is a no hunting area.
SCOUTING
Scouting of training areas prior to the hunting season is permitted when areas are available for recreation. The same rules for access apply, e.g., downrange pass, etc.
DAYLIGHT FLUORESCENT ORANGE
Hunters and recreationists must wear daylight fluorescent orange when accompanying a big game hunter during rifle or muzzleloader seasons conforming to the State requirement for big game hunters. Small game, waterfowl, and turkey hunters are no longer required to wear daylight fluorescent orange during big game seasons.
HUNTING BLINDS/TREE STANDS
Use of hunting blinds and tree stands that are not self-supporting or attaching them to trees with nails or screws is not permitted. Self-supporting hunting blinds may be left in the field for the duration of a hunting season when owner contact information is affixed to it. No other recreationist may use the blind without owner permission. Placing a tree stand in an area does not guarantee or reserve that site for the hunter. Fort Carson is not responsible for any lost, stolen, or damaged stands. Hunting from range towers or other range structures is prohibited.
ATTENTION

:

Night hunting and night recreation are strictly prohibited!
DEER & ELK HUNTERS ON FORT CARSON (GAME MANAGEMENT UNIT 591)
07/03/23 - CPW will require mandatory CWD testing during the 2024 seasons. Updates will be posted here.
As of 2021, Chronic Wasting Disease (CWD) testing is no longer mandatory for Deer and Elk at Fort Carson. If you want to voluntarily submit a sample from your harvested deer or elk, you can transport the animal to the Colorado Parks & Wildlife (CPW) office located at 4255 Sinton Road, just off Garden of the Gods Road on the east side of I-25. CPW personnel will remove the sample for you for a $25.00 per animal testing fee. Call CPW directly for additional information at (719) 227-5200. Instructions are also available online at the CPW website. Click Here for online CPW Chronic Wasting Disease information page. ​
Do not bring heads/specimens to the Directorate of Public Works Wildlife Office for processing.

Although testing is not currently free of cost for the optional CWD testing, it may become free of cost in the future. Check back here for periodic updates on this guidance.​

​
HUNTING WITH DOGS
A downrange pass is required for dog trainers shooting blanks at any location on FC and PCMS. The control of dogs on Fort Carson and PCMS is the sole responsibility of the owner/handler. Fort Carson is not responsible for any injuries sustained by the dog while on Fort Carson or PCMS. Dog owners/handlers cannot enter closed areas or private lands to retrieve a dog. Contact the Police Desk (526-2333) and request the assistance of a Fort Carson Conservation Law Enforcement Officer.
DOG TRAINING AND CONTESTS
A downrange pass is required for dog trainers shooting blanks at any location on FC and PCMS. Using live animals for training dogs or contests is prohibited. The Wildlife Demonstration Area (WDA) is open for dog training and training dogs without firing blanks/caps is permitted without a Down Range Pass. However, you do need a Recreation Permit.
WOUNDED BIG GAME
Hunters must make every effort to trail and recover wounded game. Hunters tracking wounded game may not, however, violate the required return time specified on the downrange pass or enter closed areas. Hunters should mark the spot they last saw sign contact the Police Desk (526-2333) and request the assistance of a Fort Carson Conservation Law Enforcement Officer. If wounded game goes off Fort Carson or PCMS, it is your responsibility to obtain permission from the landowner.
VEHICLE ENTRY
Fort Carson has New Visitor Access Policy. Click HERE for information.
ROAD USE
All Fort Carson recreationists are prohibited from driving off the designated recreation roads, but hunters may drive two-track roads and off-road only to retrieve downed big game. Designated recreation roads are identified on the FC recreational map. Off-road driving may be prohibited during high fire danger weather and wet soil conditions.
At PCMS, recreationists may drive on any road. Hunters may drive off-road only to retrieve downed big game. Off-road and two-tracks may be prohibited during wet soil conditions.
At PCMS, access into Bent, Stage, Welsh, Lockwood, and Red Rocks canyons is restricted to foot traffic, but hunters may drive two-track roads into these canyons to retrieve downed big game. Red Rocks canyon is closed to vehicular traffic at all times.
ALL-TERRAIN VEHICLES (ATV)
Off-highway, all-terrain, and unlicensed vehicles will not be operated on Fort Caron and PCMS, except in designated areas. Recreationists are required to park within 100 feet of a designated recreation road, so the vehicle is clearly visible from the recreation road. When a road separates training area boundaries, parking is allowed on either side of the road.
HORSES
The use of equines (e.g., horses, mules, donkeys, etc.) is now allowed with a downrange pass on Fort Carson (outside Turkey Creek Ranch) and PCMS. Also, hunters or recreationalists may also transport their horses through PCMS to the Pickettwire Canyon area of the U.S. Forest Service (Comanche National Grassland). See Below.
ADJACENT PRIVATE/PUBLIC LANDS
A recreationist will not enter private or public lands adjacent to Fort Carson or PCMS. Exceptions are recreationists possessing a valid Fort Carson recreation permit and downrange pass may cross the eastern boundary of PCMS to enter Game Management Unit 147 (U.S. Forest Service property).
TRANSPORTATION OF FIREARMS
On Fort Carson and PCMS, firearms used for hunting may be transported in the passenger compartment or trunk of a vehicle as long as they are unloaded and cased, and only while the possessor of the firearm(s) is actively engaged in hunting in accordance with Fort Carson Regulation 210 -18 (FC Reg 210-18) dated 15 Jan 2010. A loaded firearm means a firearm that has ammunition inserted into the firearm, even if a round is not chambered. As an exception, muzzleloaders may be transported with a round in the chamber as long as the firing cap or priming powder is removed rendering it unable to fire. When transported, all ammunition shall be in a container, separate from any firearm. Chapter 2 of FC Reg 210-18 details transporting and using firearms on Fort Carson. Click HERE to see more information in FC Reg 210-18.
TARGET PRACTICE AND SIGHTING WEAPONS
Target practice and sighting weapons are allowed only at Fort Carson designated ranges. Contact Range Control for additional information.
SHOOTING PROHIBITIONS
Recreationists will not shoot a firearm within 100 yards of the installation boundary, Turkey Creek Ranch Recreation Area and other non-hunting recreation areas, buildings, camps, or any training area occupied by soldiers. Recreationists will not shoot from, across, or within 50 feet of the centerline of a designated recreation road, Main Supply Route (MSR), or numbered road or route on Fort Carson or PCMS.
HUNTING PROHIBITIONS
Shooting, trapping, or hunting swift fox is prohibited. Recreational shooting of prairie dogs is allowed in certain Military Operations in Urban Terrain (MOUT) sites, ONLY at designated times, dates, and places. When allowed, shooting at MOUT sites will be done by shooting outwards, away from the buildings and will be conducted in accordance with the Ft. Carson Prairie Dog Management Plan.
At Fort Carson, falconry is prohibited in training areas 32, 33, 38, 39, 41, and 45.
HUNTING GUIDES
Unless prohibited, guides seeking to operate on Fort Carson are subject to the requirements of AR 210-7, FC Regulation 210-3, and any state licensing requirements.
Prairie Dog Hunting - CLOSED (updated 08/30/2023)
The Importance of Prairie Dogs as a Keystone Species
Approximately 200 vertebrate species have been identified in association with the black-tailed prairie dog. In Colorado, species with a strong degree of dependency on the black-tailed prairie dog include the swift fox (Vulpes velox), black-footed ferret (Mustela nigripes), mountain plover (Charadrius montanus), burrowing owl (Athene cunicularia), golden eagle (Aquila chrysaetos), bald eagle (Haliaeetus leucocephalus), and ferruginous hawk (Buteo regalis). Each of these species has experienced population declines in recent years. Historically, the black-footed ferret was documented on Fort Carson and PCMS. In 2014, black-footed ferrets were reintroduced to a prairie dog colony on private land that adjoins Fort Carson's southern border and now have been reported on Fort Carson. Additionally, mountain plovers and burrowing owls (both state threatened) nest almost exclusively in prairie dog colonies on both facilities. During the winter months, bald and golden eagles prey extensively on prairie dogs.
The relationship between these and other species suggests that the black-tailed prairie dog is a keystone grassland species. A keystone species is one that impacts a community to a greater degree than would be expected by virtue of its relative abundance or biomass. The local extinction of a keystone species generally leads to wide-ranging impacts to a host of dependent species. Deer mice (Peromyscus sp.), kangaroo rats (Dipidomys sp.), lark buntings (Calamospiza melanocorys) and mountain plovers are attracted to prairie dog towns. Black-footed ferrets, eagles, hawks (Buteo sp.), coyotes (Canis latrans), rattlesnakes (Crotalus sp.), foxes (Vulpes sp.), other weasels (Mustela sp.) bobcats (Lynx rufus) and badgers (Taxidea taxus) eat prairie dogs.
Those shooting prairie dogs need to ensure that they are not shooting at non-target species.
Prairie Dog Management and Recreational Shooting
Recreational shooting of black-tailed prairie dogs is only allowed is designated areas:
Prairie dogs can only be shot at or killed with lead free ammunition or full metal jacket (FMJ) and total metal jacket (TMJ) ammunition.

​

Lead pellets or copper-plated (common on 22lr and some reloads) ammunition is prohibited.Lead-based ammunition may present a serious threat to non-target species that feed on prairie dog carcasses. Lead ingestion and poisoning from ammunition has been documented in many avian scavengers such as bald and golden eagles, red-tailed hawks and other raptors.

A

reas will be designated by

Directorate of Public Works-Environmental Division during the time, date, and location specified on iSportsman. The

current prairie dog shooting location, time, and date is located under "Open Areas" or by clicking

HERE

.
In the area designated on the attached map: PD Colony 104 Map
Quantity of prairie dogs taken is required upon check-out.